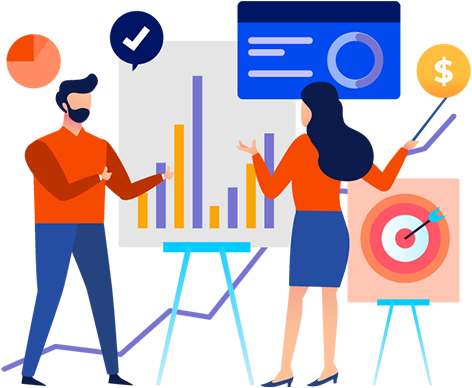 SEARCH ENGINE OPTIMIZATION SERVICES
With the help of Search Engine Optimization, you can make your business reach the zenith of success. At Surrey Geeks, our SEO experts work consistently in researching the highly ranked keywords to make your web pages achieve better ranks over the search engines. A high ranking on search engines can lead to escalated traffic on the website which has the potential to drive in more sales.
Better online rankings
Increased audience engagement
Higher rate of traffic
Conversion of leads to sales
Search Engine Optimization
We meet with you to cover the goals of your business and evaluate the market and competition. We create the content & then promote your content and give you Continual updates of performance and changes. We work with you as a partner
Researching about the keywords is among the initials of the search engine optimization process. The experts search for the keywords that give ranking to the competitors, the keywords that the users are searching to target the potential audience. With the keywords the content is updated or created according to the requirements of search engine optimization while making the content compelling and engaging to drive in more audience and traffic
If we talk about the ranking factors, links from the external websites play a major role in making the website achieve higher ranking. And, one of the major metrics in seo is to get the hands on the potential backlinks which is amongst the area of experts of our seo team. This linking process involves the promotion of the content, connecting to other websites, website submissions to the directories, and maintaining good relationships with the webmasters.
Along with the of-page activities like that of creating backlinks, working crucially on the original structure of the web pages can cause a great difference in achieving the ranking through SEO. Our experts optimize the urls to fit in the researched keywords, working on title tags to incorporate search terms. Also, working on the meta tags do not directly target the rankings of the website but increase the click through rates.
SITE ARCHITECTURE AND SEMANTICS
The seo team makes sure that the internal pages of the website are being properly linked which in turn improves the relevance of the page for certain terms. Also, the strategy of semantic markup which helps in getting relevant snippets that are displayed on the search results page is used to achieve better click through rate. Though this does not target the ranking of the website directly but improves the CTR.
How does SEO Service Will help?
SEO will increase the nature and volume of the organic traffic coming from search engines to your website.
It will improve the speed and search engine rankings of your website.
SEO helps your business is growing and completing the targeted goals.
Improves the overall site performance of your website, from content to search page ranking