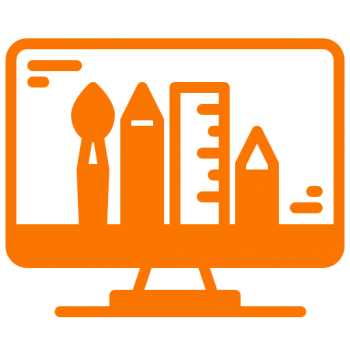 Website Design
Every business is different, and so should be their website. Let us create a business website design that is the real extension of your company to make a convincing impression on potential customers. From color choices to graphics to design elements, we ensure everything is sync to pass on the right message to the target audience.
Our Custom Website Design Services
From small business website designs to large, enterprise-level projects, we have a custom solution for your company.
The key to a probable and suitable website design is its need to be user-centric. Surrey Geeks keeps into consideration the aspect of user centric website and design the website which fits best for today's impulsive internet surfers. We make sure that the design speaks the idea of your business with clarity and gives the user the relevant information for which they landed on the website. When a user gets the desired result from your website, it automatically builds a trustworthy relationship which proves to be fruitful in increasing your online presence.

Our team incorporates professionals that are dedicated and skilled in their respective fields. In designing the website, we use the latest technologies and relevant coding to make sure there is no stone left unturned in presenting a website that stands at par with the online market standards. The designs are secure which are creatively put together by the professional website designers who consistently strive to deliver the best on the client's expectations.

Unlike others, Surrey Geeks not only focuses on the aesthetical appeal of the website but only concentrates on the overall idea of your business and ensures that the website design proves to be a boon in accentuating the online presence. Our team of content writing plays a major role in putting up the best information for the user to retain their trust in you as a brand. We make sure every effort that is put in designing the website yields results and improves your business reputation online.
RESPONSIVE WEBSITE DESIGN
Our team that handles the creative aspect of the design holds years of experience and is well-versed in customizing the website design as per the business needs while making it responsible and compatible with all the devices. The website's need to be interactive and responsive increases because of the increased demand of mobiles and tablets. We, at Surrey Geeks deliver you with a website that is fully responsive and best for increasing your online presence.
BENEFIT FROM A COMPREHENSIVE RANGE OF IT SUPPORT SOLUTIONS – ONSITE & REMOTE
Managing and maintaining the IT infrastructure of a business is a complex task that demands an equally sophisticated support strategy.
Having a strong onboarding process is important to keep the Client environment operations, setting goals, expectations, and team introductions. To ensure the performance of our clients' IT infrastructure, Surrey Geeks offers five key types of IT support which can be deployed on a per needs basis or as part of an IT management strategy.
Mobile Responsive Design
Customized domain name
Team of Experts
SEO friendly website